Sequana Medical a exploité son expérience faite avec alfapump® et développe alfapump® DSR, un système entièrement implanté pour une thérapie DSR chez des patients souffrant de surcharge volumique due à une défaillance cardiaque.
alfapump® DSR combine trois éléments confirmés:
Sûr et bien toléré
Élimination du sodium cliniquement pertinente
Inter-variabilité minimale du patient
Performance technique validée
Vaste expérience clinique
Compréhension profonde de la mise en œuvre
De nombreuses années d'expérience clinique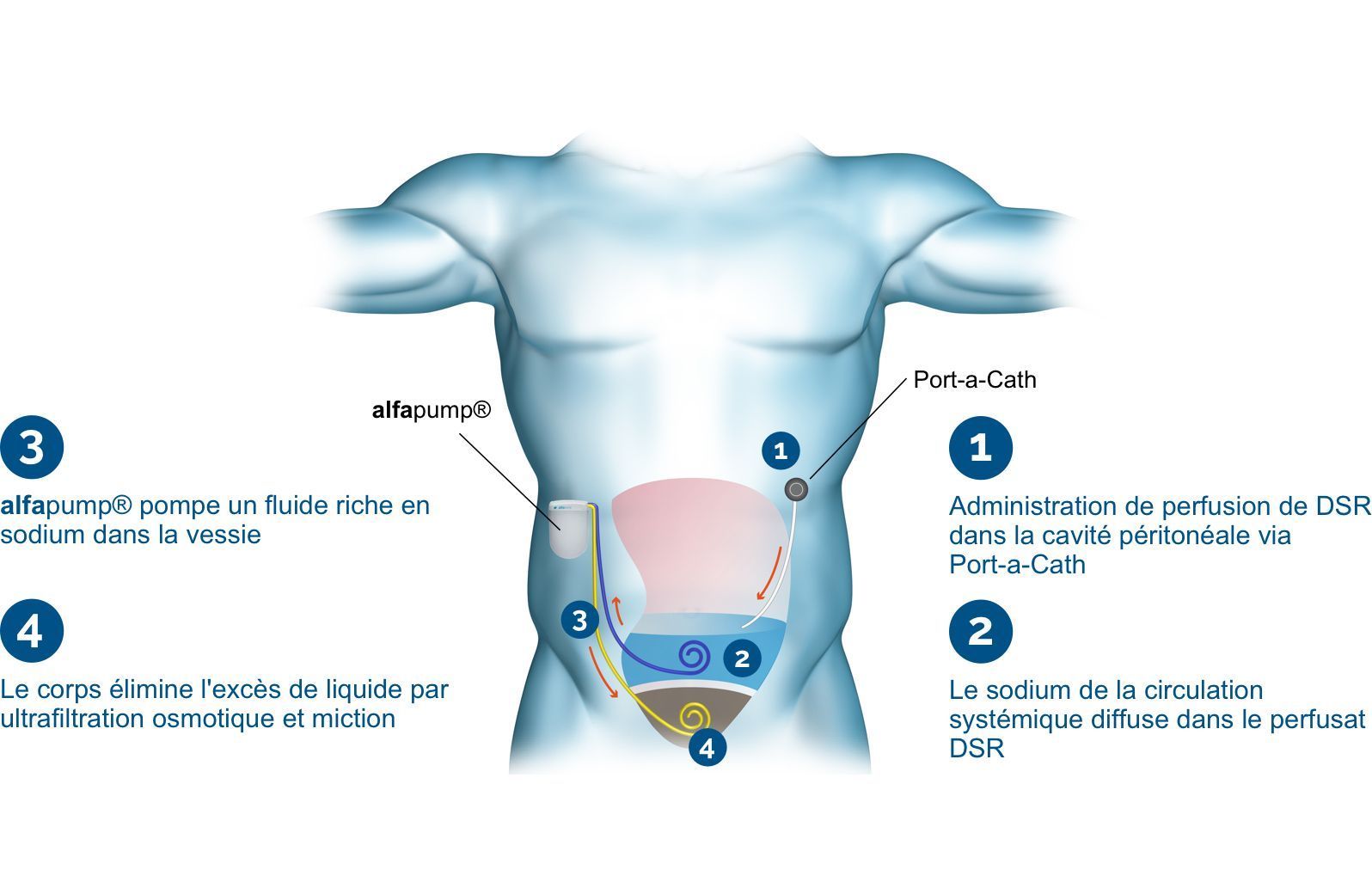 Le perfusat sans sodium est administré dans la cavité péritonéale via un port implanté par une intervention chirurgicale, ce qui permet de procéder à un dosage flexible pour éliminer la quantité de sodium souhaitée. Le perfusat DSR reste là pour une durée pré-déterminée avant que le perfusat DSR et le sodium extrait soient acheminés vers la vessie et éliminé par la miction.
Les préparatifs sont en cours pour une étude à doses répétées d'alfapump® DSR débutant au second semestre 2019.
We would like to use cookies to better understand your use of this website. This enables us to improve your future experience on our website. Detailed information about the use of cookies on this website and how you can manage or withdraw your consent at any time can be found in our
Privacy & Cookie Policy

The cookie settings on this website are set to "allow cookies" to give you the best browsing experience possible. If you continue to use this website without changing your cookie settings or you click "Accept" below then you are consenting to this.