Sequana Medical hat seine Erfahrungen mit der alfapump® eingesetzt, um die alfapump® DSR zu entwickeln, ein vollimplantiertes System für DSR-Therapie bei Patienten mit Volumenüberlastung durch Herzinsuffizienz. Die alfapump® DSR vereint dabei drei bewährte Elemente:
Sicher & gut-toleriert
Klinisch relevante Natriumentfernung
Minimale Patientenintervariabilität
Validierte technische Leistung
Umfangreiche klinische Erfahrung
Tiefes Verständnis der Umsetzung
Langjährige klinische Erfahrung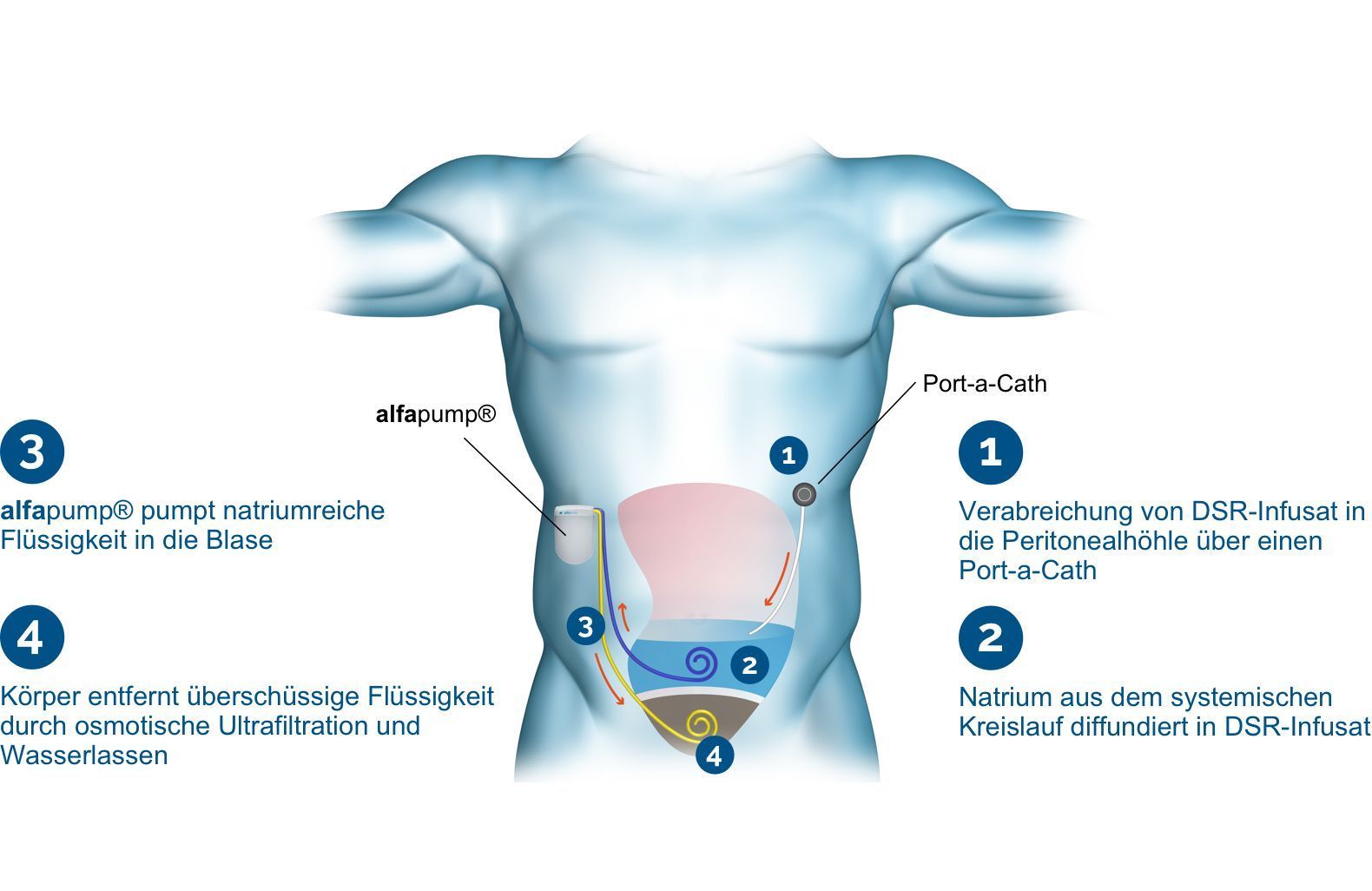 Das natriumfreie Infusat wird über den chirurgisch implantierten Port in die Bauchhöhle verabreicht, wodurch eine flexible Dosierung ermöglicht wird, um die gewünschte Menge von Natrium zu entfernen. Das DSR-Infusat verbleibt für einen vordefinierten Zeitraum in der Bauchhöhle, bevor das DSR-Infusat und das extrahierte Natrium in die Blase gepumpt wird und durch Wasserlassen entfernt wird.
Derzeit laufen die Vorbereitungen für eine alfapump®-DSR-Studie mit wiederholter Gabe, welche im zweiten Halbjahr 2019 beginnen soll.
We would like to use cookies to better understand your use of this website. This enables us to improve your future experience on our website. Detailed information about the use of cookies on this website and how you can manage or withdraw your consent at any time can be found in our
Privacy & Cookie Policy

The cookie settings on this website are set to "allow cookies" to give you the best browsing experience possible. If you continue to use this website without changing your cookie settings or you click "Accept" below then you are consenting to this.